About Us
Our mission is to consistently deliver the very best service and value to our customers.
C&S is the largest wholesale grocery supply company in the U.S. and the lead supply chain company in the food industry. From more than 50 high-tech facilities in 16 states, we supply supermarkets and institutions with more than 95,000 different products. And with our continuing commitment to new technologies, C&S is dramatically changing the cost curve of what we can deliver in terms of service and value.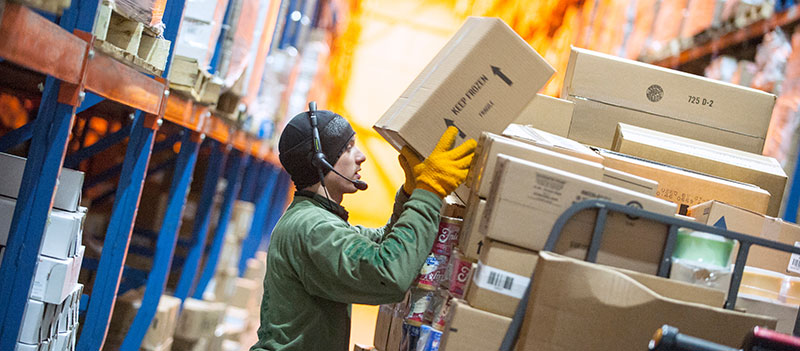 Our Purpose
Our purpose as an organization is to keep people and our communities fed by providing value to our customers through innovation and scale.
To achieve this purpose, we live by the following Values:

Every person matters.
Our leaders create an inclusive work environment.
We attract, develop, and retain a talented and diverse workforce.
We empower our people to make decisions.
We listen and seek input from our employees regarding making things better.

We're tenacious in fulfilling our commitments.
We keep our promises to our customers, our partners, our communities, and each other.
We hold ourselves and each other accountable to achieve our goals.
We bring energy and a sense of urgency to our work every day.

We challenge the status quo.
We bring innovative and disruptive supply chain solutions to market.
We anticipate and adapt to changes in the market and customer expectations.
We encourage an entrepreneurial mindset to problem solving.

We continuously make our work environment and communities better.
We put safety first.
Continuous improvement is everybody's job.
We remove obstacles preventing improvement and success.
We celebrate new ideas for solving problems.
We are an engaged corporate citizen supporting causes that positively impact our communities.
At C&S we strive to participate in our communities as an engaged, values-driven corporate citizen. Our community involvement is lead by our principles, driven by purpose, and oriented towards outcomes.
In 1918, Israel Cohen and Abraham Siegel bought a small brick warehouse and began making grocery deliveries to stores in Worcester, Massachusetts. They named their fledgling enterprise "C&S", and worked hard to build a base of loyal, satisfied customers.
100 years later, what started as a small warehouse and a handful of employees has become the largest grocery wholesaler in the U.S.
Today, C&S is recognized as a dynamic and progressive leader in the grocery industry. We are still family-owned and -operated, and still committed to delivering the very best in service and quality to our customers.
What our peers say about us:
Progressive Grocer named C&S 2014 Wholesaler of the Year
Rising Star Award for Leadership Development Program of the Year, 2013
Seven Seals Award for Excellence as a military friendly employer, 2012, Department of Defense
Top 100 Adoption-Friendly Workplaces, 2009-2017, Dave Thomas Foundation for Adoption
Partner Award for Excellence, Target Corporation, 2010
National Grocery Distributor of the Year, Feeding America
This notice describes the categories of personal information ("PI") collected or which may be collected by California entities within the C&S Family of Companies, including Tracy Logistics LLC, Sacramento Logistics LLC, and C&S Wholesale Grocers, Inc. (each referred to here as "Company"). This notice also describes the purposes for which PI may be used. We are providing this notice to you in accordance with the California Consumer Privacy Act, California Civil Code Sec. 1798.100(b).